Was this the fastest summer ever?  In just a few weeks, fall will officially arrive but it already feels a bit like fall in the mornings here in San Diego.  While our changing seasons are not quite as dramatic as they are in other areas of the country there is a definite smell in the air that signals changes are ahead.  And for you decorators, that means changes in our home's decor.  Here are some of my favorite fall items that just might inspire you.
I am not a big fan of theme decorating but a few thematic items do set the mood.  For those of you who are not fans of orange and brown, this pumpkin pillow from Pier 1 is so pretty and can be displayed now all the way through Thanksgiving.  They actually have several options for neutral interiors that are very chic and sophisticated and will still put you in the mood for roaring fires, hot toddies and maybe even a trick or treater or two.
These pretty leaves will add a bit of sparkle to your outdoor balcony or along your indoor fireplace mantel.  Who says you can only have lights at Christmastime?
With shorter days, it might be time to add a new lamp or two to your inventory.  Small accent lamps can be placed on a bookshelf, atop a chest in the entry, even on the kitchen counter.  They add just the right amount of ambient light to many areas in your home.
If you already have plenty of lamps, a new lampshade can do wonders in updating the look and feel of your home.  A textured shade, perhaps burlap or textured linen, will make any lamp look "fallish", especially in a color like this gorgeous tangerine version from Houzz,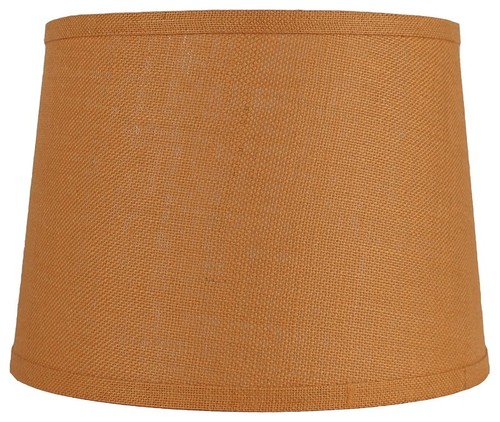 The colors in this throw are scrumptious…I would like a scarf to match!  This might have to find its way into my fall decor.
Finally, nothing welcomes fall like a big bunch of sunflowers.  Fresh flowers are a must in any home, IMHO, and sunflowers, gerberas and mums are so affordable and easy to arrange in any vase.  For added texture, place your clear glass vase in a basket…..I can smell the fall leaves burning as we speak!
How do you add the beauty of fall to your decor?